Campaign launches to encourage people who experience day- or night-time hypos to TALK Hypos with their doctor or nurse.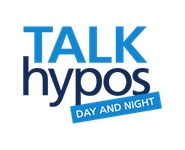 TALK Hypos is an awareness campaign from Novo Nordisk, supported by Diabetes UK, and in 2015 focuses on encouraging people with diabetes to report day- and night-time hypoglycaemia (hypos) to their doctor or nurse.
There are approximately 3.9 million people living with diabetes in the UK and hypos are one of the most common diabetes complications. Hypos are the result of glucose in the blood falling to a lower level, and symptoms may include a pounding heart, trembling, hunger, difficulty concentrating and blurred vision. Left untreated, they can become serious and cause unconsciousness. Despite this, hypos are often not recognised by people with diabetes or are not reported to healthcare professionals.
Symptoms of night-time hypos include waking up with a morning headache, night sweats and extreme tiredness. Night-time hypos can be a particular concern as they can be unpredictable and hard to detect. They can be a regular burden for people with diabetes and can have a serious impact on their lives yet a new survey reports that one-third of people failed to report night-time hypos to their doctor or nurse.
To help you discuss hypos with your doctor or nurse and increase your confidence about managing night-time hypos, the TALK Hypos campaign includes a simple summary of what you need to remember:
THINK: Do you know what a hypo is? Do you suffer from hypos?
ASK: your doctor or nurse about hypos and discuss them as part of your consultation
LEARN: what can be done to better manage your hypos, including lifestyle and treatment options
KEEP: track of your hypos for discussion with your healthcare professional
TALK Hypos Film and Information
It is important to know how to spot the signs of day- and night-time hypos and know what can be done to help tackle them.
Watch the following short film to find out more about hypos and know why it is important to TALK Hypos with your doctor or nurse
Click here to download the TALK Hypos animation video
Download the TALK Hypos patient leaflet for information and discuss hypos with your doctor or nurse during a consultation.
Source: Novo Nordisk