Three wards at Leicester's Royal Infirmary have closed after 14 cancer patients were diagnosed with swine flu.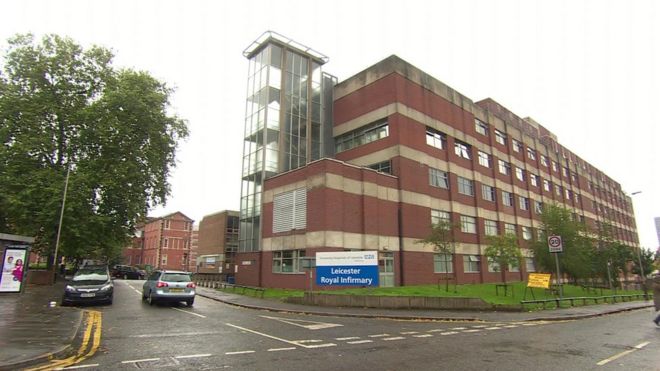 The patients, who are suffering with the H1N1 strain of influenza, have been isolated to avoid an outbreak, the hospital said.
Another three people being treated at the city's Glenfield Hospital also have swine flu, but these are not linked to the cases at the other hospital.
Anyone suffering from cold and flu symptoms should avoid both hospitals.
"Fourteen patients on three Haematology wards at the Leicester Royal Infirmary have developed symptoms that have been confirmed as flu," Liz Collins, lead nurse for infection prevention said.
"All necessary precautions were taken and these patients have been isolated to avoid an outbreak."
Analysis
James Gallagher, health editor BBC News website
Swine flu caused a pandemic in 2009 when the virus jumped from animals into people and then spread rapidly around the world.
Since then things have calmed down and it has joined the pantheon of other flus that lead to outbreaks every winter.
In the past seven days, 31 outbreaks of swine flu were reported in the UK – including eight in hospitals.
Despite still being known as "swine flu" – there's nothing special about it and it is no more or less scary than other types of flu.
However, there will be concern for these patients as cancer treatment can weaken the immune system, making it harder to fight infection.
After the 2009 pandemic, the winter flu jab was upgraded to give protection against swine flu so anyone who was immunised this flu season should have some protection.
And so far flu viruses are circulating at lower levels in the UK than last year.
The three patients at Glenfield Hospital are receiving extracorporeal membrane oxygenation (ECMO) – a treatment for people with severe heart or lung problems.
Dr Philip Monk, from Public Health England, said it was unlikely it would ever be known how the flu got onto the wards.
"It is a normal winter – and swine flu is the normal flu and the number of cases is not that high across the East Midlands," he said.
"Obviously, when it gets into a clinical setting where people are very vulnerable then this is a difficult situation to manage. Everything is being done and it is under control."
Hospital bosses said as many frontline staff as possible would be vaccinated against flu and would wear masks, gowns and gloves on the wards.
The affected areas have also received increased cleaning.
It was earlier thought that the number of patients diagnosed at the LRI was 16, but Public Health England has since corrected that figure.
Swine flu
A respiratory disease, caused by a strain of the influenza type A virus known as H1N1
H1N1 is the same strain which causes seasonal outbreaks of flu in humans on a regular basis
Although the strain may have originated in pigs, it is now a wholly human disease
It can be spread from person to person by coughing and sneezing
Symptoms of swine flu in humans appear to be similar to those produced by standard, seasonal flu – fever, cough, sore throat, body aches and chills. Some people with the virus have also reported nausea and diarrhoea
However, many people who get flu show no symptoms at all, and for most people it is a mild illness – about 98% recover without the need for any hospital treatment.
But doctors have found it very hard to predict who will develop complications
Source:
BBC News