Jason Bruges Studio's interactive installation at Great Ormond Street features jumping rabbits and scurrying hedgehogs.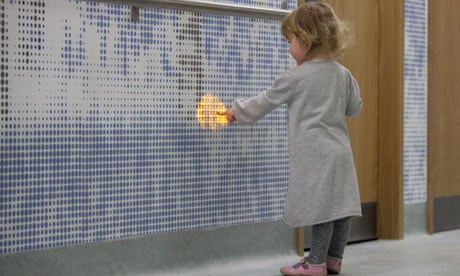 The journey to the operating theatre is rarely a pleasant one. The squeak of trolley wheels on linoleum, the glare of fluorescent lights, the smell of disinfectant in the air. But a new installation at Great Ormond Street children's hospital has transformed this clinical experience into something close to drifting through a magical glade.
The Nature Trail is a project by lighting designer Jason Bruges, which has turned the otherwise nondescript corridor route from ward to surgery into an adventure through a forest, complete with glimpses of glowing animals snatched through the trees.
The interactive installation, designed to distract children from what awaits, is formed from LED panels integrated behind graphic wallpaper, which extends down both sides of the 50m stretch of corridor. Motion sensors detect the presence of visitors and patients, activating the screens to display silhouettes of rabbits and running horses, scurrying hedgehogs and deer meandering through the woodland.
"The idea came from remembering walks in my childhood," says Bruges. "I loved spotting and following things, those stolen glances and glimpses, the excitement of stopping at hides. I was trying to recreate this with the idea of digital lookout points along the corridor."
The artwork includes 70 LED panels, with 72,000 LEDs in total, which are embedded into the wall at various heights in order to be accessible to varying eye levels of the patients