A Northern Ireland jockey is recovering after having his leg run over by an ambulance in Italy following a fall in a race at the Merano track on Sunday.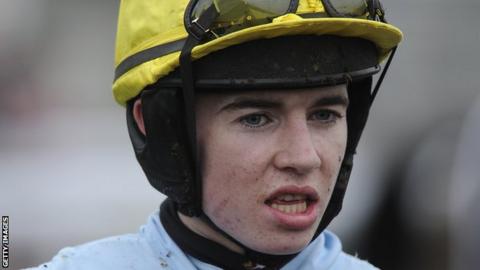 County Down man Chris Meehan, 22, suffered a broken nose after being knocked out in the fall but worse was to follow when the ambulance arrived.
"They stopped the ambulance while on top of my leg. I let a roar out of me," Meehan told BBC Radio Foyle.
"It left me with a broken leg. The men there pushed the ambulance off me."
Ironically, Meehan's father is an ambulance driver trainer while several other members of his family have also worked for the service.
"My father in Northern Ireland has been in the ambulance service for 30 years and he wasn't too happy at the sound of what went on."
Meehan's jaw gash requires 27 stitches
In addition, Chris Meehan suffered a gash along his jaw which required 27 stitches while the injuries to his right leg also include a dislocated ankle.
"The starter came over to me first of all. I was on my back and choking on my blood.
"He put me in the recovery position, with my right leg out straight."
However, it was at that point that the on-course ambulance reversed over the jockey's leg, breaking it in the process.
"Because it's such a small tight track, they had to turn around and as they went to turn the ambulance, it reversed on top of my leg.
"After I left a roar out of me, everybody realised that the ambulance was on top of me and they all jumped up and pushed it off me."
Chris Meehan recently took out his licence again and is planning a return to jumping following a stint on the flat.
However, the Northern Irishman faces at least two months on the sidelines following Sunday's incident.