Medical regulator urges cancellation of five-day strikes planned for September because of fears about patient safety.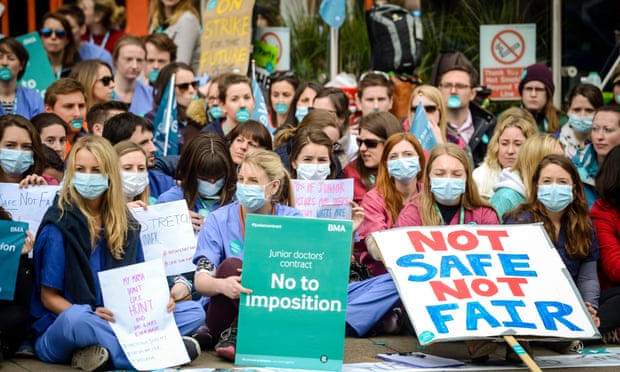 Junior doctors have been told by the General Medical Council (GMC) that they should call off their planned five-day strike for later this month and that putting patients at risk of significant harm could lead to them being struck off.
The GMC issued the unusually severe warning on Monday in advice issued to doctors contemplating taking part in the strike, starting on 12 September, and to other doctors who may be affected by the industrial action.
It expressed reservations before previous walkouts by junior doctors this year, but today's statement is its bluntest yet, prompted by fears that the length of the strike, the relatively short notice given about it to management and the fact that emergency care is included mean that the risk of patients suffering is greater than before.
The GMC does not have the power to prevent doctors from going on strike, but it exercises considerable power as a regulator and its statement contains an implicit threat that doctors who withdraw care could be putting themselves at risk of being sanctioned, including possibly struck off, for unprofessional conduct.
In a statement urging doctors to call off at least the strike planned for September Prof Terence Stephenson, chair of the GMC, said: "We know that doctors will again want to do their utmost to reduce the risk of harm and suffering to patients. However … it is hard to see how this can be avoided this time around.
"We therefore do not believe that the scale of action planned at such short notice can be justified and we are now calling on every doctor in training to pause and consider the implications for patients."
Junior doctors have already staged six walkouts this year as part of their campaign against the proposed new contract being imposed on them by the government, but Stephenson said the BMA was now planning "a substantial escalation" of the dispute.
From 12 September junior doctors will go on strike for five days in a row, from 8am until 5pm each day, with emergency care as well as elective care affected. Further five-day strikes are planned starting on 5 October, 14 November and 5 December.
In its advice to doctors contemplating strike action the GMC said they must take "reasonable steps" to satisfy themselves about the arrangements being made to protect patients while they are not working.
"Given the scale and repeated nature of what is proposed, we believe that, despite everyone's best efforts, patients will suffer. In light of this, the right option may be not to take action that results in the withdrawal of services for patients."
Senior doctors and managers had to be given enough time to put in place alternative arrangements, the GMC said. "Action without warning or with inadequate warning is not acceptable."
The GMC also said in its advice that, if it became clear in a particular area that patients were at risk because of inadequate medical cover and that if doctors were asked "in good faith" to return to work, the GMC would expect them to do so.
In a statement issued alongside the advice, Niall Dickson, the GMC's chief executive, said it was being issued to doctors under the authority of the 1983 Medical Act and that doctors could face sanctions if they acted unprofessionally.
He said that doctors had a right to take strike action, but that they also had a duty to make the care of patients their first concern and that "the question each doctor must ask … before taking action is whether what they are proposing to do is likely to cause significant harm to patients under his or her care or who otherwise would have come under his or her care."
He went on: "The GMC has powers under the [Medical] Act to investigate and apply sanctions to any doctor whose behaviour has fallen consistently or seriously below the standards required. Where we are presented with evidence that a doctor's actions may have directly led to a patient or patients coming to significant harm, we would be obliged to investigate and if necessary take appropriate action."
In its press notice setting out the advice, the GMC said that its job was to protect the public, not doctors.
The Department of Health said it would not comment specifically on the latest GMC guidance. But a spokeswoman provided a previously distributed statement which read: "As doctors' representatives, the BMA should be putting patients first not playing politics in a way that will be immensely damaging for vulnerable patients … cooperation not confrontation is the way forward to make sure patients get the best treatment and the NHS is there for people whenever they need it."
Source: the Guardian