Cardiac Check-Ups Go Mobile for Device Patients with Sleek, On-the-Go CardioMessenger and BIOTRONIK Home Monitoring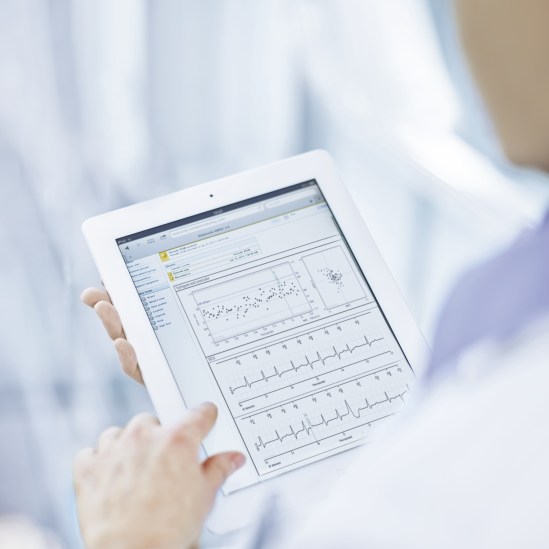 BIOTRONIK has announced that its CardioMessenger Smart device is available for patients in the UK and Ireland. Similar in look and feel to a smartphone, it keeps cardiovascular implantable electronic device (CIED) patients connected to their physician anywhere, anytime via BIOTRONIK Home Monitoring®.
Home Monitoring has revolutionised aftercare for CIED (pacemaker and implanted defibrillator) patients since being introduced in 2000. Instead of relying on timetabled, face-to-face follow-up appointments in the hospital, data from the CIED is sent to the clinician's computer via Home Monitoring. Relevant events are red-flagged so hospital appointments are minimised. It lightens the workload for cardiac physiologists, through fast follow-ups and has been shown to reduce mortality rates in heart-failure patients by over 50 percent.1
With CardioMessenger Smart, monitoring of CIED patients is more mobile. Their heart can be monitored no matter where the patient is in the world. Any heart rhythm disorder is noticed even sooner so treatment can be adapted even earlier. If the patient is abroad, a list of hospitals at their destination where they can go for follow-up care can be found online at the BIOTRONIK travel guide.
"This is a new generation of remote monitoring technology," commented Carys Jones, an Advanced Cardiac Physiologist from Glangwili Hospital in West Wales—part of the Hywel Dda University Health Board. "There's no connection to a landline, so patients can be monitored from anywhere and since it's fully automatic, the patient doesn't have to do anything. Via Home Monitoring, we get reports daily, even if patients live in rural areas. If everything is normal, then the patient has reassurance we are monitoring; if there is an abnormal cardiac event, we can immediately focus on the patients that need attention and tailor therapy when needed."
About BIOTRONIK Home Monitoring
BIOTRONIK Home Monitoring can be programmed by a physician to transmit data automatically and on a daily basis, thereby rapidly detecting deterioration in a patient's clinical status. The occurrence of atrial or ventricular arrhythmias or specific trends in certain clinical parameters can often be the first sign of worsening heart failure leading to hospitalization or death. Early detection of these clinically relevant events, in particular asymptomatic atrial fibrillation, enables the physician to adapt patient therapy at a very early stage.