Theresa May urged to boost funding or ration care to head off escalating cash crisis and avoid '1990s-style decline'.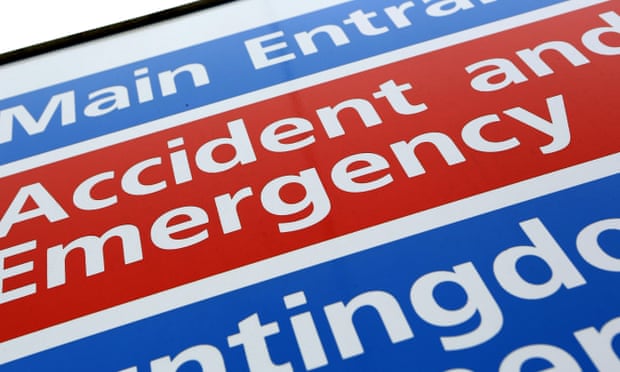 The body that represents hospitals across England has issued a startling warning that the NHS is close to breaking point because of its escalating cash crisis.
Years of underfunding have left the service facing such "impossible" demands that without urgent extra investment in November's autumn statement it will have to cut staff, bring in charges or introduce "draconian rationing" of treatment – all options that will provoke public disquiet, it says.
In an unprecedentedly bleak assessment of the NHS's own health, NHS Providers, which speaks for hospital trust chairs and chief executives, tells ministers that widespread breaches of performance targets, chronic understaffing and huge overspends by hospitals mean that it is heading back to the visible decline it last experienced in the 1990s.
"Taken together this means the NHS is increasingly failing to do the job it wants to do and the public needs it to do, through no fault of its own," Chris Hopson, the chief executive of NHS Providers, writes in the Observer.
His intervention comes days before the influential Commons health select committee decides whether to launch a special inquiry into the state of the NHS in England. After months dominated by the Brexit debate, the state of the NHS is now emerging as the key domestic challenge facing Theresa May's government.
Recalling the NHS's deterioration in the 1990s, which caused political problems for John Major's government, Hopson adds: "NHS performance rarely goes off the edge of a cliff. As the 1990s showed, instead we get a long, slow decline that is only fully visible in retrospect. It's therefore difficult to isolate a single point in that downward trajectory to sound a warning bell. But NHS trust chairs and chief executives are now ringing that bell. We face a stark choice of investing the resources required to keep up with demand or watching the NHS slowly deteriorate. They are saying it is impossible to provide the right quality of service and meet performance targets on the funding available. Something has to give."
In a direct appeal to May to increase NHS funding in the autumn statement in November, Hopson warns the government will face "unpalatable choices" if the service is to keep within the existing budget. "The logical areas to examine would be more draconian rationing of access to care, formally relaxing performance targets, shutting services, extending and increasing charges, cutting the priorities the NHS is trying to deliver or, more explicitly, controlling the size of the NHS workforce," says Hopson.
His warning comes days after the NHS posted its worst set of performance figures for services such as A&E, planned operations and ambulance response times.
Hopson blames the "full-blown crisis in social care" created by cuts to town hall budgets for causing "major problems for the NHS", such as record numbers of healthy patients who cannot be discharged because social care is not available. This means that "hospitals are now being asked to routinely run at capacity levels that risk patient safety".
Norman Lamb, the Liberal Democrat MP who was a health minister in the Tory-Lib Dem coalition, said Hopson's "absolutely accurate reflection" of life on the frontline showed that "the government is in total denial about the reality of the state of the NHS and that they continue to mislead".
"Ministers refer to '£10bn extra', which to many people will seem a lot of money. But that £10bn is being stretched in a number of directions, including to pay for the seven-day NHS. Everyone who has looked into the finances of both the NHS and care system knows that this is nowhere near enough. We are the world's fifth or sixth largest economy so it's really horrendous that, despite our relative wealth, we have a health and social care system that is on its knees," he added.
Chris Ham, the King's Fund's chief executive, said: "The clear message from the NHS leaders, doctors and nurses I've spoken to is that they are increasingly unable to cope with rising demand for services, maintain standards of care and stay within their budgets.
"The government must be honest with the public about what the NHS can deliver with the funding it has been given. It is simply not realistic to expect hard-pressed staff to deliver new commitments like seven-day services while also meeting waiting-time targets and reducing financial deficits."
A government spokesman said: "We know the NHS is under pressure because of our ageing population, but we rightly expect the service to continue to ensure that patients get treated quickly."
Source: The Observer