Dr David Zigmond had plenty of time for his patients – but not for bureaucracy. Now the plug has been pulled on his surgery. Angela Neustatter hears his story.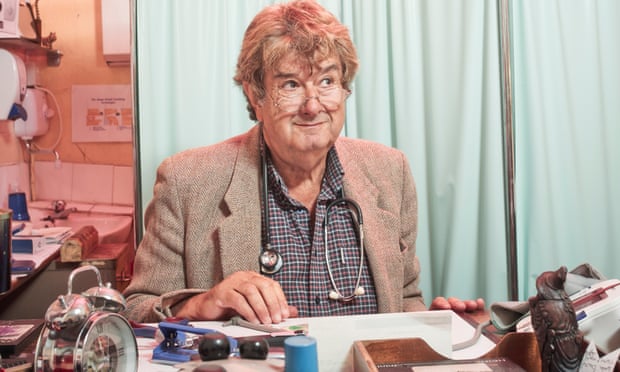 On a Tuesday in July, Dr David Zigmond skimmed down London's Old Jamaica Road on his 1980s motorbike, as he had done for the past four decades, curving into the courtyard of St James church in Bermondsey, cutting his engine, removing his helmet and striding into a part of the church where he held his surgery. Here there was the customary ebullient greeting of staff and patients, questions about new babies and ageing grandparents. The 69-year-old's slightly dishevelled appearance – cord trousers, checked shirt open at the neck "although I wouldn't go as far as Tom Jones in his day" mattress-stuffing curls and a boyish smile – lets you know he doesn't do formal.
He welcomes patients calling him by his first name if they wish, although "not everyone wants the 'call me Dave' approach." In his consulting room there are exotic model birds winking at you – a couple of toucans, parrots hanging from lamps – and just about everywhere you look polished carved wooden animals, many bought for him by patients. The interior, with its art prints covering the walls, resembles a well-used sitting room with deep armchairs and a strong, comfy chair – perfect for when Dr Zigmond needs a patient to lean back and be examined, yet feel at ease.
Dr Zigmond has an engaging garrulous good humour and evidently takes enormous pleasure in his work, drawing on skills gained from training as a psychiatrist and psychotherapist as well as in medicine (For the past 38 years he has spent one day a week at Hammersmith Hospital doing psychological medicine): "My patients' souls are as important as their physical wellbeing," he says.
Today, 5 July, his diary has a space marked out for inspection by the Care Quality Commission, the NHS body that judges how efficient and safe doctors' surgeries are as "systems". He is sanguine. He plans to show them a practice that patients grow attached to, many into the third generation, where staff stay for years and the atmosphere is unmistakably relaxed.
There has never been a serious complaint against him, and he is exceptional in not having been called for a disciplinary hearing in all his 40 years as a GP. He anticipates an agreeable couple of hours, as in 2014 when the inspectors last came. He had explained his philosophy and modus operandi, talking of medicine as an art form, "being a human being so patients feel they know well me enough to trust, while maintaining boundaries – compassionate detachment, I call it."
"On that occasion," he will recollect later, "they seemed concerned with seeing whether I was running a healthy, happy, well-functioning practice. They looked at feedback forms, talked to patients and made intuitive judgment." They gave him a glowing report.
This time, when the CQC delegation – a doctor, a compliance officer and someone to survey patients' views – arrive at his unorthodox consulting room and take their seats, they make plain that no small talk is required. The atmosphere, Dr Zigmond will say later, quickly chills. This investigation will be very different.
They have come through the well-tended graveyard of St James church, modelled on a Greek temple with pilloried galleries around three sides, by architect James Savage. For all its grandeur, it is set in one of London's poorest neighbourhoods, surrounded by acres of tower blocks and housing estates. The inspectors launch into issues surrounding Dr Zigmond's noncompliance with regulations and what it may mean for his 1,700 patients.
Giving patients enough time to let me know what is going on with them is part of protecting their wellbeing
Dr Zigmond believes all will be well if they can listen to his reasoning. "Let's talk, have a conversation," he suggests. "That way you'll get a real understanding of our struggling, flawed but wholesome little world here. I want to be candid, warts and all."
So he describes relegating or discarding things. "For instance, formalities to demonstrate corporate compliance: irrelevant data inputting, sticking rigidly to care pathways…" Later he describes how "one of the inspectors, a neatly suited and formally mannered man in his mid-50s, clears his throat and talks of other areas of concern…"
Dr Zigmond is being assessed under new regulations brought into force in late 2014, and the inspectors, ordered to gather neatly tabulated data, are not impressed by his explaining that over-regulation destroys much of our best healthcare. But he ploughs on: "I know the argument that the institutional world is acting on behalf of patients, but it has proved far from failsafe. I remain convinced that giving patients enough time to let me know what is going on with them is part of protecting their wellbeing."
Dr Zigmond's concern chimes with the new recommendation by the BMA that GP appointments should be five minutes longer than the present 10 minutes, because this would lead to improved decision-making and service, and allow for the complex needs of an ageing, and increasingly obese, population to be understood and discussed.
The delegation leaves and, at the end of the week, Dr Zigmond takes off for a brief holiday in France with his partner. Getting home, he finds the answer machine flashing. It is his receptionist saying the CQC are seeking an emergency order to close down his practice. He has to be in court the following morning.
There is no time to prepare.
"I arrived flustered, hurried, and alone at court," he tells me. "The CQC had assembled massive and well-armed forces with hundreds of pages of 'evidence'. Very soon I could see the professional profile they constructed: reckless or feckless, casually or deliberately unsafe, disobedient and unreformable – in short a gross and intolerable liability to any public service."
As he listened, he wondered whether his book, If You Want Good Personal Healthcare – See a Vet, published last year, a collection of essays inveighing against the way the NHS is becoming increasingly depersonalised, had been a black mark against him.
The case lasted eight hours, the bench listening attentively to Dr Zigmond as he explained there are times when noncompliance must be the order of the day "if we are to provide our best personal care for others". The magistrate seemed sympathetic but concluded that his noncompliance posed a risk to patients. Although he could continue practising as a doctor, his surgery must close with immediate effect. And that was that.
Michele Golden, head of inspections for London at the Care Quality Commission, acknowledges how harsh this seems and she wants to be as helpful as possible, but she cannot talk about Dr Zigmond's case specifically. At a time when the NHS needs to find the best possible way of coping with the enormous demand it faces, she seems eager that I understand they must regulate medical practice with what they have concluded is the best possible data. That way they can make evidence-based decisions. Golden tells me: "We have five key questions which must be satisfied: is the system being run by a doctor safe, effective, caring, responsive, well-led? This covers a wide range of matters such as following up patients, repeat medicines, being meticulous about reading all information sent about a patient, necessary checks on the things that relate to patients' safety in all ways. It is very rare indeed for us to apply to court for an emergency suspension and we only do it where we fear serious risk to health and wellbeing."
So within this remit how much attention is paid to the views of patients saying they are satisfied with their doctor? Golden considers: "We know, from various inspections, that patients will say how happy they are, and it may be that their doctor is a very nice person, but that doesn't mean they understand if the system is actually unsafe for them."
Dr Zigmond and I are sitting in his office, where he is taking brown paper files, dating back to when he began here in 1987, down from the shelves. All are handwritten – he is one of the few remaining doctors not using computers for his notes. "Files will be collected over the next three weeks and stored…" It is this thought that makes his eyes water, and he suddenly has the look of a desperately sad child who doesn't understand the world any longer.
So why, I ask, didn't he try compliance-lite which might have satisfied the powers-that-be? "It would have taken too much time and energy. I would not have been able to provide good quality continuity and personal care. Ever-increasing electronic traffic numbs our brains, dumbs our speech and often displaces off-screen reality."
As we talk, several patients arrive having found the notice posted on the door saying the practice is closed. One is Debra McDermott, 54, who erupts through the door, saying everyone on her estate is going mad. "David is a doctor who knows you are ill before you do, and who listens to what you say and responds. He sees my son and my grandchildren. We've got very elderly people in the block and they are panic stricken, they don't want to go to a huge new place with doctors who don't know them."
During the day, around 100 patients come to express themselves in tears, hugs and fury. One woman slumps into a chair as she says: "I have such depression and David is my safety blanket. I might not make it without him."
Dr Zigmond stops what he is doing and thinks. "I see myself as a container for a patient," he says, "which is not necessarily about making a physical or psychological problem go away, but about offering understanding to make their pain and struggle more bearable."
The CQC will soon complete its first year using its new registration process and it will be interesting to see its effects. Meanwhile, when I next meet Dr Zigmond, he has just driven in his 1964 Rover from the north coast of Cornwall, where he spent a week with his son, stepsons and their families. Now comes the task of re-orienting his life. He sighs: "It seems madness at a time when there is an acute shortage of doctors, and for me it's a high price to be severed from the work I love and my 'family' of patients. Perhaps we have to ask if the NHS in its wisdom knows best."
Source: The Observer