Dementia, including Alzheimer's Disease, has overtaken heart disease as the leading cause of death in England and Wales, latest figures reveal.
Last year, more than 61,000 people died of dementia – 11.6% of all recorded deaths.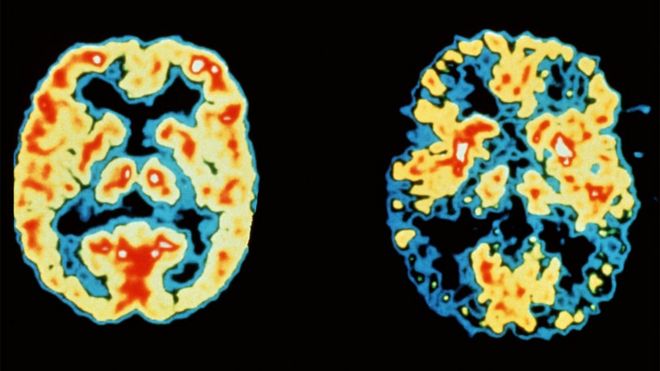 The Office for National Statistics says the change is largely due to an ageing population.
People are living for longer and deaths from some other causes, including heart disease, have gone down.
Also, doctors have got better at diagnosing dementia and the condition is now given more weight on death certificates.
The bulk of the dementia deaths seen were among women – 41,283, compared to 20,403 dementia deaths in men in 2015.
Dementia, including Alzheimer's disease, accounted for 15.2% of all female deaths, up from 13.4% in 2014.
For men, however, heart disease remained the leading cause of death in 2015.
All types of cancer as a group was still the most common cause of death overall.
In the youngest age group, aged 5 to 19, suicide was the leading cause of death.
Among women aged 35 to 49, breast cancer was the biggest killer.
Hilary Evans of Alzheimer's Research UK said: "These figures once again call attention to the uncomfortable reality that currently, no-one survives a diagnosis of dementia.
"Dementia is not an inevitable part of ageing, it's caused by diseases that can be fought through research, and we must bring all our efforts to bear on what is now our greatest medical challenge."
There are around 850,000 people living with dementia in the UK.
---
Warning signs of dementia
Seek medical advice if your memory loss is affecting daily life and especially if you:
struggle to remember recent events, although you can easily recall things that happened in the past
find it hard to follow conversations or programmes on TV
forget the names of friends or everyday objects
cannot recall things you have heard, seen or read
lose the thread of what you are saying
have problems thinking and reasoning
feel anxious, depressed or angry
feel confused even when in a familiar environment or get lost on familiar journeys
find that other people start to notice or comment on your memory loss
Source: BBC