Jeremy Hunt has today announced a raft of measure to make the NHS "a more attractive place to work" and prepare its workforce for the potential damage Brexit could cause.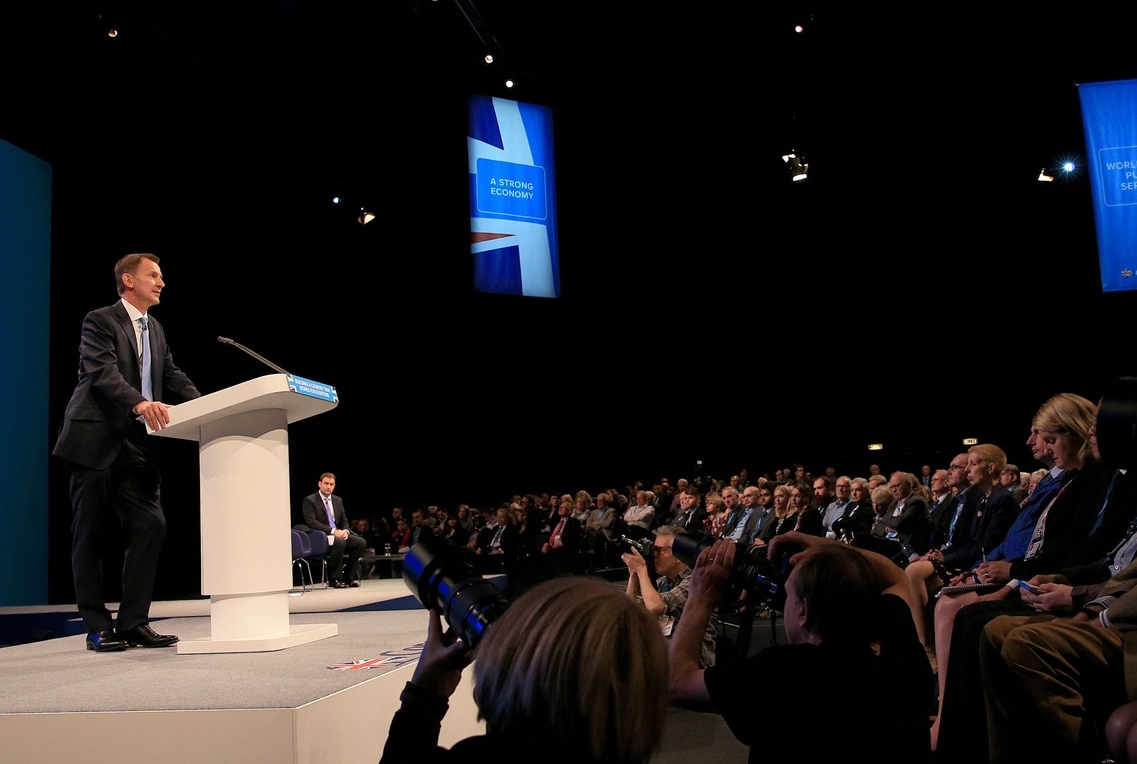 Speaking at the Conservative Party conference in Manchester, the health secretary promised the largest increase in training "in the history of the NHS" to boost numbers by a quarter.
This includes the creation of 5,000 extra trainee nursing places next year to increase the number of workers being trained in the UK.
Recent figures have shown a worrying decrease in numbers in nursing courses. In August it was reported that there had been an 8% drop in students who had been placed into university courses compared to last year.
Other changes announced include new flexible working hours and a right to buy affordable homes developed on surplus NHS land.
"The NHS will be looking after a million more over-75s in just a decade, so we need to jump-start nurse training," Hunt told delegates at the conference today.
"This represents the biggest increase in nurse training places in the history of the NHS and we will make sure that many of the additional places go to healthcare assistants training on hospital sites, allowing us to expand our nurse workforce with some highly experienced people already working on the NHS frontline.
"We will also improve retention rates amongst our current workforce with new flexible working arrangements to be made available to all NHS staff, and a new right of first refusal for affordable housing built on NHS property.
"Combined with the 25% increase in medical school places announced last year, this will transform the ability of our NHS to cope with the pressures ahead."
Nurses raise concern at scope of changes
Although Janet Davies, chief executive and general secretary of the Royal College of Nursing (RCN), commented that while the increase to training places was a good idea, the organisation still had some serious concerns.
"Significant increases to training numbers is welcome – we desperately need more nurses," Davies explained. "However, they must be educated to the highest standards. We are concerned at the risk of students plugging the gaps in the current workforce at the expense of quality patient care and their own learning experience.
"These plans appear too hospital-focused. It is essential nurses of the future have a flexible education which enables them to work in a variety of settings to deliver a 21st-century health and care service.
"We are prepared to work with the government on meaningful solutions for the education of nurses. Greater flexibility for nurses working extra shifts, supported by new technology, should improve their experience and we support this move."
The president of the Royal College of Physicians (RCP), Jane Dacre added that understaffing in hospitals represented one of the greatest threats to patient safety and has significantly contributed to low morale among many of our NHS staff, and so the measures were welcome.
"However, what was concerning was the lack of support for our colleagues from overseas. We all need to work hard to ensure staff working in our NHS feel supported, wherever they are from, and frankly stating that the government is 'confident that they will be able to stay' is just not good enough," she continued.
"Currently, a quarter of NHS doctors are from overseas, and the NHS has benefitted from their talents, abilities and will to work with us in the UK – this government and the secretary of state must do more, despite the insecurity caused by the Brexit situation, to reassure those who have chosen to dedicate their working lives to the NHS, that they are valued, and more importantly, greatly needed."
NHS Confederation: Notable omissions in Hunt's speech
Some NHS organisations welcomed the measures. NHS Employers chief executive Danny Mortimer said that the commitment to use NHS land to build affordable homes was "great news."
"This announcement will undoubtedly support recruitment and retention, an issue at the forefront of our members' priorities," he added.
"Housing is a critical issue for staff and their families. We look forward to continuing to contribute to actions to make the secretary of state's announcement a reality."
But Niall Dickson, CEO of NHS Confederation commented that there were "notable ommissions" in Hunt's speech.
"There was nothing about social care, which is in crisis," he explained."It means people end up in A&E, instead of being supported at home, and that thousands of patients who are fit to be discharged become stuck in hospital.
"Recent boosts to funds in this area were welcome, but have not been enough. Hospitals have wards filled with patients who should no longer be there.
"The speech did not acknowledge the fragile state in which we find ourselves and there was no mention of the real concerns among many of our members about the next few months," Dickson concluded. "If flu hits us from the Southern Hemisphere, the system will struggle to cope."
Source: National Health Executive