Three community hospitals in Leicestershire could be shut with the loss of hundreds of jobs as part of major cost-saving measures.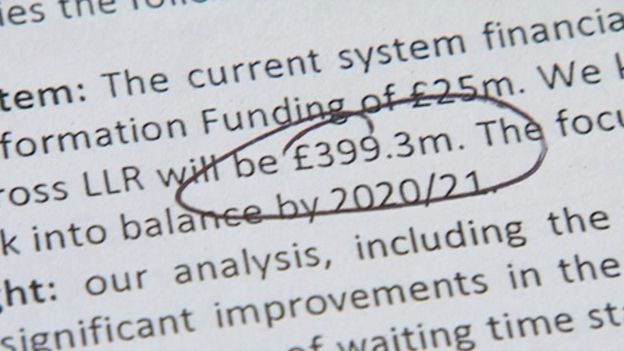 A leaked copy of a draft NHS report obtained by the BBC calls for the closure of hospitals in Melton Mowbray, Lutterworth and Hinckley.
A new midwife-only birthing centre may be opened at Leicester General.
The NHS said it was still drafting its final proposals which would then be put to a full consultation.
The BBC understands if all the proposed changes go ahead there could be an estimated loss of about 800 jobs, but with the creation of about 500 posts that would be a net loss of 300 positions.
However, these figures have yet to be confirmed.
The draft plan details how the trusts and clinical commissioning groups, which run services in Leicestershire and Rutland, intend to save about £400m from the health and social service budgets between now and 2020-21.
Michael Mullaney, a Liberal Democrat county councillor in Hinckley, said: "We need increased health facilities, not reduced or even swapping them around to different sites."
Karen Chouhan, of patient group Healthwatch Leicester, said: "We have to argue for quality as well as capacity, it's not just about putting more patients in one place and dealing with it that way. Patient involvement and consultation is really critical."
It recommends closing St Mary's Hospital (a midwife-led birthing centre in Melton Mowbray), Feilding Palmer Hospital in Lutterworth, and Hinckley and District Hospital, all following consultations.
Meanwhile some community hospitals will be reduced in size, including the closure of the in-patient ward in Oakham.
The General Hospital site will keep the diabetes centre and community health services.
The report said: "Having three big acute hospitals creates problems, by spreading our specialist staff too thinly across the three sites, resulting in duplication and even triplication of services.
"Through our reconfiguration programme, we will focus our emergency and specialist care at the Leicester Royal [Infirmary] and the General Hospital, whilst ensuring that appropriate clinical services are provided in the county's community hospitals, to offer care as close to home as possible."
Toby Sanders, who is overseeing the sustainability and transformation plan (STP) project, said: "Over the last two years we've been focused on developing our services hand-in-hand with clinicians, patient representatives and our partners in local government as part of our Better Care Together partnership.
"Our STP draws upon and builds upon that work, and we will be sharing and discussing the detail widely with people across our community to further inform and develop the plans over the coming weeks and months."
Source: BBC