NHS England figures show number of people awaiting non-urgent surgery is at highest level since December 2007.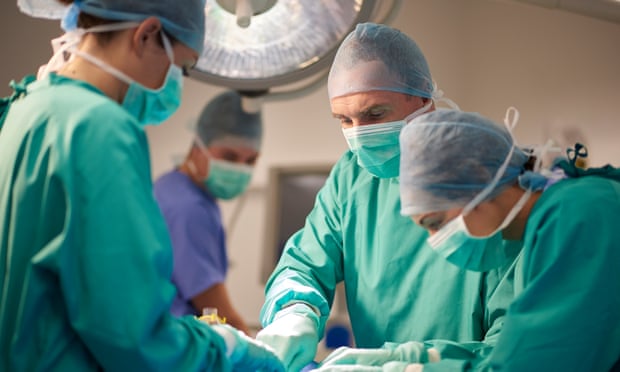 Demand for medical care is rising so fast and hospitals are so busy that one in 14 people in England are now waiting to have a non-urgent operation.
NHS England figures released on 8 December 2016 show the number of people awaiting hospital treatment reached 3,754,961 in October – the highest level recorded since December 2007.
However, the real figure is 3.9 million, NHS England said, as five hospital trusts did not submit data. With England's population now standing at 54.79 million, that means about 7% of them are now on the NHS's referral to treatment (RTT) waiting list for operations such as cataract removal, hernia repair or hip or knee replacement.
The latest grim set of monthly NHS performance statistics also revealed other evidence of serious stress on the service as it heads into what many doctors fear will be a very difficult winter. More patients than ever are trapped in hospital despite being fit to leave, often because of inadequate social care, and the number of patients not treated in A&E within four hours is one of the highest ever.
Prof John Appleby, the chief economist and director of research at the Nuffield Trust thinktank, said: "These figures reveal just how tough things are for the NHS as winter approaches. With one in 14 people in England now on a waiting list, we are getting to the point where no family is immune from the growing pressures facing our health service."
In October 360,255 people were not treated within the 18-week maximum supposedly guaranteed by the NHS constitution – the largest number since the 370,308 forced to wait beyond 18 weeks in October 2008.
Huge pressure on hospitals, caused by the ageing and growing population and rise of lifestyle-related illnesses, meant the NHS badly missed its target of treating 92% of all those waiting within 18 weeks. It managed to treat 90.4% of them, its worst performance since the 89.4% it recorded in March 2011.
In October, 117,125 patients had been on the RTT waiting list for over 26 weeks, a huge rise on the 71,965 who were in that position exactly a year earlier.
Similarly, 14,794 people in October had been on the waiting list for at least 39 weeks, almost double the 7,808 who faced the same delay a year ago.
October saw 200,008 bed days in hospitals lost to what the NHS calls delayed transfers of care and what is often referred to as "bedblocking". That was the largest number since records began in August 2010 and was 25% up on the 160,130 bed days lost for that reason a year earlier.
NHS England said 57% of "delayed days" were wholly or partly due to delays that occurred in hospitals, a slight year-on-year improvement. But 35% of them were due to social care support not being available to allow a patient to be safely discharged home or into a care home, up from the 31% seen a year ago.
That four-percentage-point rise reflects what many analysts and older people's charities say is the rapid deterioration in social care services provided by local councils – such as help for older people at home with getting up, dressed and fed – which have faced severe budget cuts since 2010. Social care funding has gone down every year since then.
Dr Jennifer Dixon, the chief executive of the Health Foundation thinktank, said the soaring number of bed days lost was "symptomatic of wider pressures on the health and care system and adds to the risk of bigger problems this winter. Staying in hospital when it's no longer necessary is not only distressing for patients and the people who care for them, it has a knock-on effect for the rest of the hospital and local health system. It especially impacts on patients waiting for a bed in A&E, numbers of which are at worryingly high levels."
Hospitals also came nowhere near meeting their target of treating 95% of arrivals at A&E within four hours. Type one A&E units, those based at hospitals, treated just 83.7% of patients in that time, the fourth worst performance against that politically important measure.
Too many patients were attending A&E unnecessarily and should seek help elsewhere to relieve overcrowding, said Matthew Swindells, NHS England's national director for operations and information.
"These figures suggest A&E attendances are increasing rather faster than the growth in the number of major 'accidents' and medical 'emergencies', putting great strain on A&E departments," he said. "Going into the busy winter period, it is important people remember the first port of call for minor conditions or non-emergency medical care should be the local chemist, the 111 helpline, or their GP practice."
Despite the evidence of hospitals' growing inability to treat patients within the set timeframes, and more and more people facing long delays for care, the Department of Health insisted hospitals were performing well.
Hospitals also again failed to treat the required 85% of patients referred by their GP for urgent cancer treatment within 62 days. They managed 81.1%, one of their worst ever performances.
That meant 2,235 patients had to wait longer than 62 days for their treatment, although 11,825 others were treated on time. In addition, 8,138 patients with suspected cancer did not see a consultant specialising in the disease within the maximum 14 days, and another 611 people who were meant to receive treatment within 31 days did not do so. The number of cancer patients facing treatment delays is rising every year.
"It's terrible that so many people could have their Christmas overshadowed by anxious waiting. This season should be about spending quality time with friends and family, but thousands could be facing a long and distressing wait for their cancer diagnosis and treatment," said Dr Moira Fraser, Macmillan Cancer Support's director of policy and public affairs.
So far this year 20,950 people have not been treated within 62 days and while more people are being referred for cancer testing by family doctors, NHS performance against the 62-day target is not improving, she added.
An NHS spokesman said: "Despite the NHS being busier than ever hospitals are performing well and the vast majority of people are seen quickly – in fact over 27,000 more people were seen within four hours in A&E compared to October 2010. We are delivering a safer seven-day NHS and have invested £10bn to fund the NHS's own plan to transform services in the future and reduce pressure on hospitals."
Source: the Guardian