A breast surgeon who "played God" and carried out "completely unnecessary" operations has been convicted of intentionally wounding patients.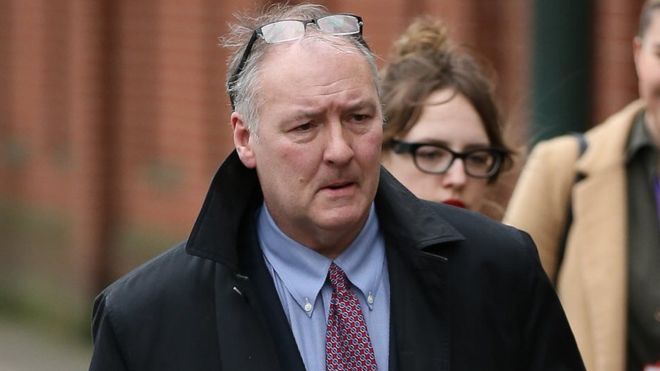 Ian Paterson, 59, carried out "extensive, life-changing operations for no medically-justifiable reason".
He was found guilty of 17 counts of wounding with intent, relating to nine women and one man.
Jurors at Nottingham Crown Court also convicted him of three further wounding charges.
Paterson, of Altrincham, Greater Manchester, was granted bail and is due to be sentenced in May.
'Mutilated'
The trial heard Paterson, who treated thousands of patients during his career, exaggerated or invented cancer risks and claimed payments for more expensive procedures in some cases.
The seven-week trial heard the accounts from 10 victims – representing a sample of those Paterson treated – operated on between 1997 and 2011 at the privately-run Little Aston and Parkway hospitals in the West Midlands.
Jurors were not told Paterson carried out hundreds of unnecessary operations on NHS patients, with a hospital trust paying out £17.8m in damages and legal costs.
During proceedings, former patients gave moving testimony about their treatment at Paterson's hands.
One told the jury: "That person has ruined my life."
Others told how Paterson misled them into thinking they were seriously ill, leading them to agree to surgery.
One said she was called a "ticking time bomb" by the surgeon and he convinced another she had cancer when she was only at risk of developing it.
Debbie Douglas, a former patient who attended court, but did not give evidence, said after Paterson was convicted: "I thought I had the best of consultants. All these years down the line, I feel I've been betrayed.
"I feel like I've been mutilated. I thought my scars were a badge of honour. Now I find he has mutilated me and I have been through all of this for nothing.
"Thank God those brave people who spoke up in court have got the right verdict."
---
Analysis by health correspondent Dominic Hughes
It wasn't just Ian Paterson's private work that was a cause for concern.
He was also employed by the NHS at the Heart of England Trust, based in and around Birmingham.
His job here did not form part of the criminal case but there are serious questions about his work.
In 2011 it emerged he had been performing an unorthodox and unregulated procedure known as a cleavage-sparing mastectomy.
By definition, a mastectomy removes the whole breast, but this procedure left some tissue behind, putting women at risk of the cancer returning.
Despite repeatedly being asked to stop by managers, Ian Paterson continued to use the technique for several years.
In 2013 a damning report into Paterson's work at the Trust by Sir Ian Kennedyrevealed a succession of failures: on the part of colleagues who tried to raise concerns, trust managers who let Paterson continue his work and the trust board, which failed to protect patients.
The Heart of England Trust has now paid out nearly £18 million in damages and legal costs to hundreds of former patients of Ian Paterson.
---
Health worker John Ingram, who was wounded with intent, earlier told the trial how he underwent a double mastectomy at Paterson's hands despite his "phobia" of surgery and he still lived with near-constant pain 10 years on.
Jurors also earlier heard how victim Rosemary Platt, herself a GP, had an "unnecessary" operation to remove a breast after being told she had cancer that could turn aggressive at any time.
Dr Platt, now retired, said Paterson told her he would recommend the same procedure to his wife if in the same position.
Det Insp Caroline Marsh of West Midlands Police said: "There is lots of speculation as to why he has done what he has done.
"Some of his victims said he wanted to play god with their lives or he got some perverse satisfaction from these procedures. It may also have been financial gain. We will probably never know."
As a result of his work, police said, Paterson owned a luxury home in Birmingham's Edgbaston area, numerous properties in Cardiff and Manchester and a holiday home in the U.S.
The jury of six men and five women were warned against researching the case, and were not told hundreds of Paterson's patients were recalled in 2012 over concerns about his work.
He performed what he called "cleavage-sparing" mastectomies on many of his patients, leaving breast tissue behind to achieve a better cosmetic effect.
By doing so, he left them in great danger of developing secondary cancer, jurors heard.
The Scottish-born surgeon, of Castle Mill Lane, Ashley, was suspended by the General Medical Council (GMC) after his arrest.
The total number of people he operated on is 4,424, although he treated thousands more privately.
In October, 350 private patients who had unnecessary operations will seek compensation at the High Court, Linda Millband from Thompsons Solicitors said.
Pamela Jain, from the Crown Prosecution Service said: "Paterson breached the trust of his victims and pay tribute to them for coming forward to give their evidence."
Source: BBC